Booking.com7.4
Expedia.nl7.8
Google7.8
Located in the vibrant city Weert
Welcome to Fletcher Hotel-Restaurant Weert. Located in the province Limburg, the vibrant city Weert is ideal for a weekend away. The hotel is centrally located as the train station is nearby. In addition, you can enjoy breakfast, lunch and dinner in our restaurant and the hotel has comfortable hotel rooms.
Located in the pie-city of The Netherlands
Ideal location for a weekend away
2 minutes from the train station
Three multi-functional conference rooms
Can be combined with a day trip to amusement park Toverland
Enjoyable facilities
Fletcher Hotel-Restaurant Weert will make sure you have a carefree stay during your time with us. The hotel has 69 comfortable hotel rooms which are equipped with all comforts and a restaurant where you can enjoy the delicious, seasonal dishes.
For business purposes you are also welcome as the hotel has three multi-functional conference rooms with a capacity of 10 to 350 people. Meeting packages can also be arranged to your needs, if you would like to receive more information, feel free to contact us!
Vibrant city with green surroundings
Fletcher Hotel-Restaurant Weert is a few minutes away from the city center. Weert is a vibrant city which is surrounded by nature, peace and quiet. The city itself has a welcoming city center with monuments and a variety of museums. De Sint Martinuskerk is a must visit as it is the showpiece of Weert, and if you are a nature lover, we recommend visiting the national forest Laurabossen.
Day out with an overnight stay
Combine your overnight stay with a visit to the amusement park Toverland. You will find the tickets including an overnight stay on our packages page.
Our team warmly welcomes you!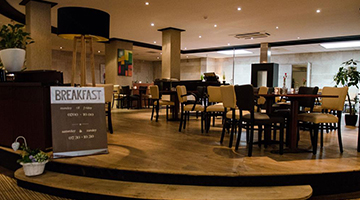 Savor the delights of the restaurant
In the excellent restaurant at Fletcher Hotel-Restaurant Weert, you are always welcome for a good breakfast, a pleasant lunch or a delicious dinner. After an active day, join us in the restaurant and be spoilt by the creations of the kitchen team. As the perfect accompaniment to your dinner, our team will be happy to advise you on the best choice of wine.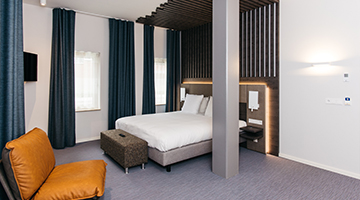 Photos and videos
Want to see more of the hotel before you arrive? View the photos and videos of our hotel here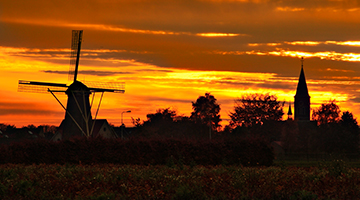 Charming Weert
The hotel is located in the vibrant center of Weert, where there is plenty to do. The great diversity of shops makes the historic center very atmospheric. You can shop to your heart's content in the numerous boutiques and specialist stores run by local entrepreneurs. End the day on our sunny terrace or in the hotel restaurant.